Mirrors
Mirrors are a necessity in home design. Either for practical uses like bathrooms, gym mirrors, closets, and bedrooms, or for more aesthetic uses like bar mirrors, dining room, hallways, or backsplashes, mirrors can be used in so many ways. They reflect the light of a room making the space brighter and useful at the same time. The shine and elegance of a mirror creates the illusion of a larger space, helps to spread light, and can dress up furnishings. We provide flat polished edge mirrors, beveled mirrors, bevel strip framing, custom shape mirrors and specialty sectioned mirror projects, as well as work with custom frame manufacturer Mirrormate. See the Mirrormate website for a wide range of frames available that we can provide and install over your new or existing mirror. We also offer the service of removing and cutting down existing mirrors to update any space you wish. We custom measure all mirrors to get exact sizes and inspect your space so there are no surprises.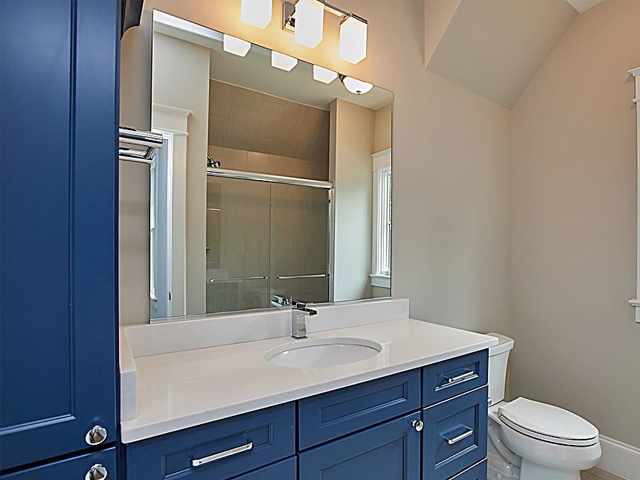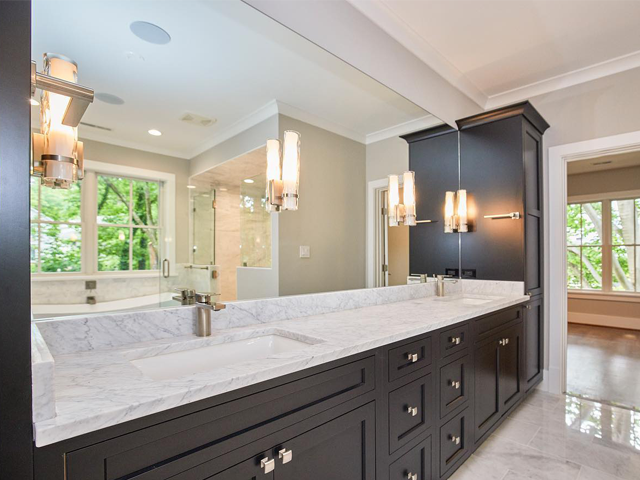 Bathroom Mirrors
What is a vanity without a mirror? Bathroom mirrors come in a wide range of styles and sizes, and custom cut mirrors help to make just the right impact for your design and bathroom size. With options of polished edge or beveled edges plus various mounting styles, your options are unlimited! We can do mirror standoffs, special design cuts, full wall with mirror cover plates for outlets in both modern and traditional styles. Mirrors tie your backroom together and make it look finished.
Accent Mirrors
Hallway mirrors, dining room mirrors, or accent pieces added to shelves and bar areas are a fantastic way to add a reflective touch to a room and make spaces appear bigger and brighter. We can install in your own frames or a Mirrormate frame. Have a special piece of mirrored furniture? Have us replace broken mirror pieces instead of throwing it away!
Gym or Studio Mirrors
Enclosures Unlimited are experts at full wall mirrors, projects big and small. Whether it is a local country club gym, wine tasting area, home gym, ballet studio, or accent wall we can help layout, design, masterfully cut and install. We provide mirror cover plates for all standard outlets and switches. Give us a call or email for a consultation, or to schedule an onsite measurement.
Closet Mirrors and Doors
Custom cut closet mirrors for walk-in dressing rooms and closet doors are a great wall to give a more finished look to your closet update. Sliding mirrored closet doors are also available to replace existing closet sliders that have a dual purpose.
Decorative Mirrors
Mirrors are not always just the standard shining backdrop you are used to. Mirrors can also add a decorative touch to any space. Antique mirror can be used to give an aged or art deco look to a space or furniture. Bronze, grey, or other tinted mirror can be used to give a muted reflection to restaurant spaces, entertainment centers, and other decorative wall applications.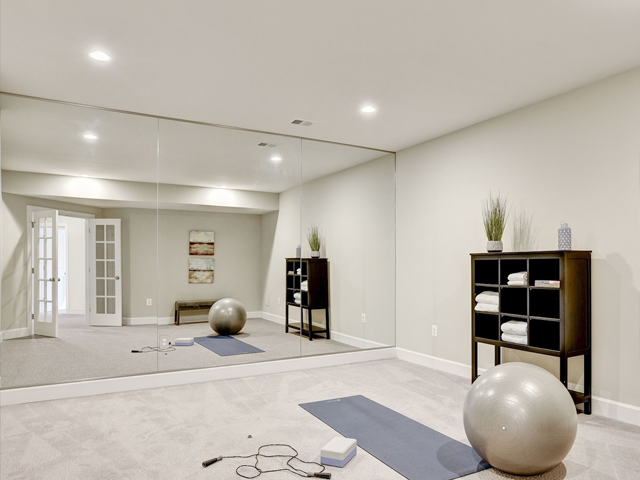 Call us at 703-450-5644
to get started on a new shower enclosure or glass project today!